Voting for council elections is by postal ballot. This means that all election material (including ballot papers) is mailed directly to enrolled voters.
Voting packs
Voting packs contain:
A ballot paper for each election being contested in the council area for which you are entitled to vote
Candidate profile brochure
A ballot paper envelope
A reply paid envelope
A Postal Voting Guide
Most electors receive one voting pack. However, people who have additional properties or entitlements for a different election may receive more than one voting pack.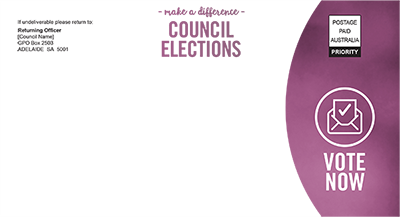 Re-issuing voting packs
Voting packs can be re-issued to electors who claim that the original material was:
not received,
destroyed or lost,
spoiled, or
issued for an incorrect ward.
Voting packs may also be issued to electors who claim to have been omitted from the council voters roll due to an administrative error.
How to complete your ballot papers
You must number at least as many boxes as there are vacancies, in the order of your choice. The number of vacancies will be shown on the ballot paper.
For example, in a ward with two vacancies and five candidates: You must use the numbers 1 and 2 to complete your ballot paper. If you wish, you may continue to number some or all of the other boxes (3, 4 or 5).
Returning your ballot paper
Once you have completed your ballot paper:
Place it in the ballot paper envelope provided.
Seal it.
Complete your details and sign the declaration on the envelope flap.
Place your completed ballot paper envelope in the reply paid envelope and seal it.
Mail it (no stamp required) so that it reaches the Returning Officer by close of voting.
If you do not get your envelope in the post on time, you can place it in the ballot box at your local council office by close of voting.