Councillor (1 vacancy)
Due to the resignation of a member of the Council, a supplementary election was held to fill the vacancy of Councillor for Telowie Ward.
Timetable
The key dates for this supplementary election were:
Roll close
5pm, Thursday 30 April 2020
Opening of nominations
Friday 29 May 2020
Nominations close
12 noon, Friday 12 June 2020
Dispatch of ballot material to electors
Tuesday 23 June 2020 to Monday 29 June 2020
Close of voting (Polling Day)
12 noon, Monday 13 July 2020
Scrutiny and count
9am, Wednesday 15 July 2020
Ballot Paper Draw
The draw for ballot paper order for the District Council of Mount Remarkable - Telowie Ward was live streamed at 4pm on Thursday 11 June.
A recording of the ballot paper draw is available on ECSA's YouTube channel.
Candidates
At the close of nominations at 12 noon on Friday 12 June 2020, a total of two nominations were received and accepted for the supplementary election. In accordance with the Local Government (Elections) Act 1999, a draw was held after the close of nominations to determine the order in which names of candidates would appear on the ballot paper and the result of the draw was as follows:
Profiles of each of these candidates are available by clicking their names above.
Daily returns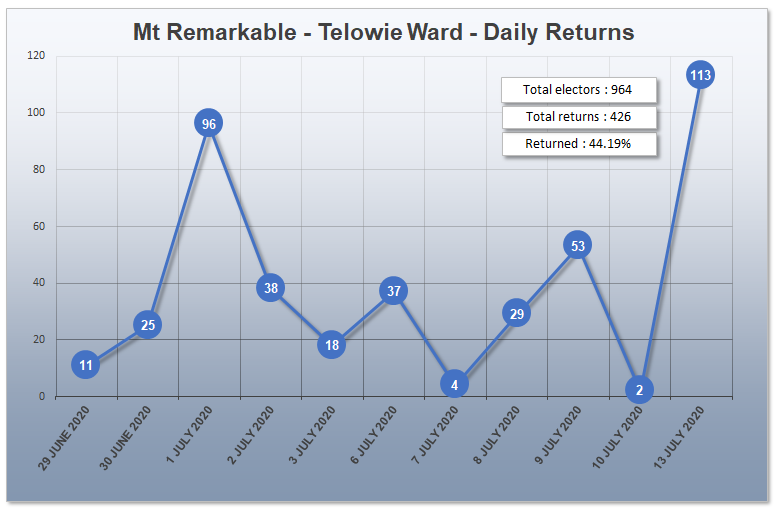 Count Summary
Enrolled voters:
964
Envelopes returned:
426
Envelopes accepted:
421
Envelopes rejected:
5
Ballot papers not returned in envelope:
0
Voter participation:
426 (44.19% of the total enrolment)
Formal votes:
420
Informal votes:
1
Quota:
211
First preference votes

Below are the first preference votes received by the candidates in the order they appeared on the ballot paper. Percentages have been rounded to two decimal places.

Candidate
First preference votes
Percentage
STANTON, Diane
153
36.43%
McCARTHY, Stephen
267
63.57%
Information in other languages
Information about how to vote at council elections is available in 21 languages:
Phone the Translating and Interpreting Services on 131 450 and ask them to them contact Electoral Commission SA on 1300 655 232.
This is a free service.If your language is not listed here, or if you would like more information, please call us through an interpreter.